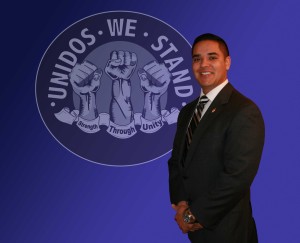 Greetings,
Today, the United States faces a great challenge in the realm of immigration reform and promoting the security and safety of civil rights and liberties of the nation's inhabitants. I am proud to be the Founding President and CEO of Unidos We Stand, Inc., a non-profit organization, as we take on the challenge of pursuing true justice and legal reform for the Latino and minority communities all across America. We have partnered with several law firms, local law enforcement agencies, and local media in order to promote awareness and provide the services necessary to help those in need.
I am a disabled Army combat veteran with over 10 years of direct experience with the federal government in the area of Homeland Security and Counter-Terrorism operations. I have earned several degrees to include a Master's of Science in Management in Homeland Security (M.S.M.) as well as a Bachelor's of Science in Political Science (B.S. International Politics).
I have established this organization with the help from my two brothers Jose D. Martinez Jr. and Byron R. Martinez. Unidos We Stand is working diligently to help those individuals that need our help. Please feel free to read our testimonials page and be sure to sign up for the News Letter to stay current with the organization and our mission as we strive to continue to grow our base.
We thank you for your support and look forward to working with you.
Sincerely,
Carlos A. Martinez, M.S.M.
Founder and CEO
Unidos We Stand, Inc.
Saludos,
Hoy, los Estados Unidos se enfrenta a un gran reto en el ámbito de la reforma de inmigración y la promoción de la seguridad y protección de los derechos civiles y las libertades de los habitantes de la nación. Me siento orgulloso de ser el Presidente Fundador y CEO de Unidos We Stand, Inc., una organización sin fines de lucro, a medida que asumimos el reto de llevar a cabo la verdadera justicia y la reforma legal para las comunidades latinas y de las minorías de todo Estados Unidos. Nos hemos asociado con varios bufetes de abogados, agencias locales del orden público, y los medios de comunicación locales con el fin de promover el conocimiento y proporcionar los servicios necesarios para ayudar a los necesitados.
Yo soy un veterano discapacitado de combate del ejército con más de 10 años de experiencia directa con el gobierno federal en el área de Seguridad Nacional y las operaciones antiterroristas. He ganado varios grados para incluir una Maestría en Ciencias en Gestión de Seguridad de la Patria (MSM), así como una Licenciatura en Ciencias en Ciencias Políticas (BS Política Internacional).
He establecido esta organización con la ayuda de mis dos hermanos José D. Martinez Jr. y Byron R. Martínez. Unidos We Stand está trabajando diligentemente para ayudar a aquellas personas que necesitan nuestra ayuda. Por favor, siéntase libre de leer nuestra página de testimonios y asegúrese de registrarse para obtener la carta de noticias para estar al día con la organización y nuestra misión como nos esforzamos para seguir creciendo nuestra base.
Le damos las gracias por su apoyo y esperamos con interés trabajar con usted.
Atentamente,
Carlos A. Martínez, M.S.M.
Fundador y CEO
Unidos We Stand, Inc.